Pumpkin Cream Cheese Muffins
Pumpkin Cream Cheese Muffins
Pumpkin Cream Cheese Muffins with a cream cheese filling, streusel topping, and a sweet cream cheese glaze. The BEST pumpkin muffin recipe EVER!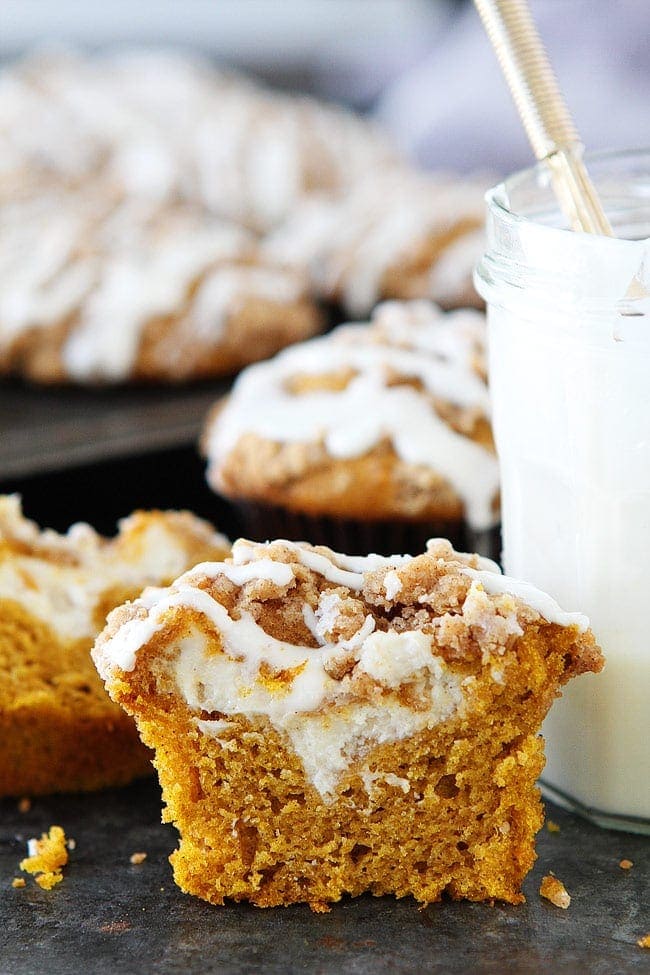 I have made a million pumpkin recipes in my life and I am always looking for new ones to try. My friend told me about a local bakery that makes pumpkin muffins with cream cheese in the center. She said I needed to try them because they are her absolute favorite. Instead of going to the bakery, I got baking in my own kitchen. I made Pumpkin Cream Cheese Muffins with a cinnamon streusel topping and a cream cheese glaze. A huge thanks to my friend for the idea because these muffins are off the charts good!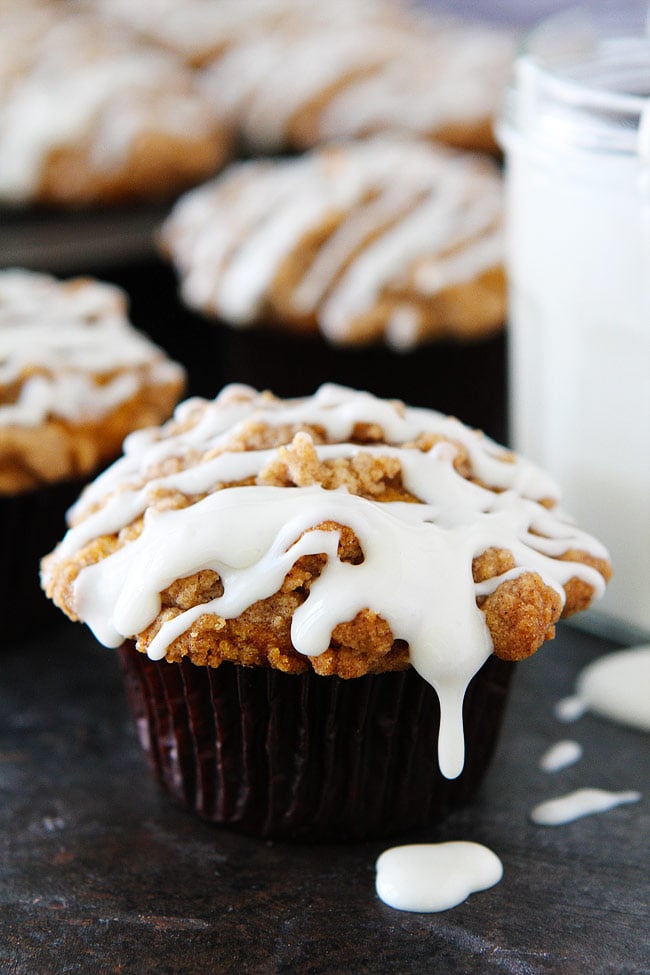 I am a sucker for pumpkin anything, have you seen my favorite 25 pumpkin recipes? Yeah, I LOVE them all. Well, these pumpkin muffins need to be added to that list because they are a new favorite!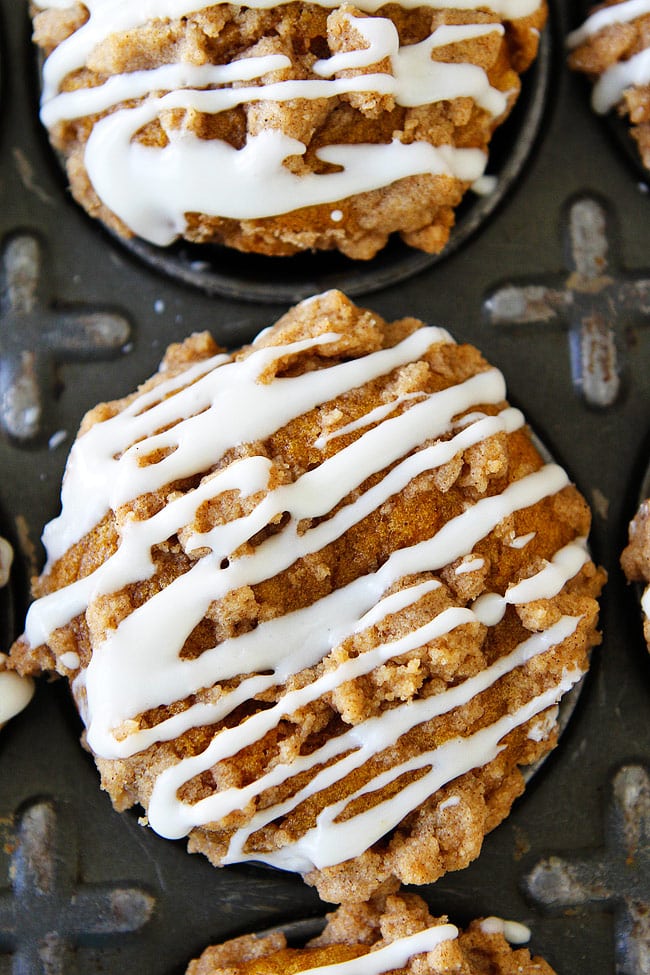 So let's get down to business. Why do I love these pumpkin muffins OH so much?
They are perfectly spiced.
They are super moist.
They are filled with a cream cheese center.
They are topped with the most amazing cinnamon streusel topping.
They are finished with a sweet cream cheese glaze.
They taste like FALL!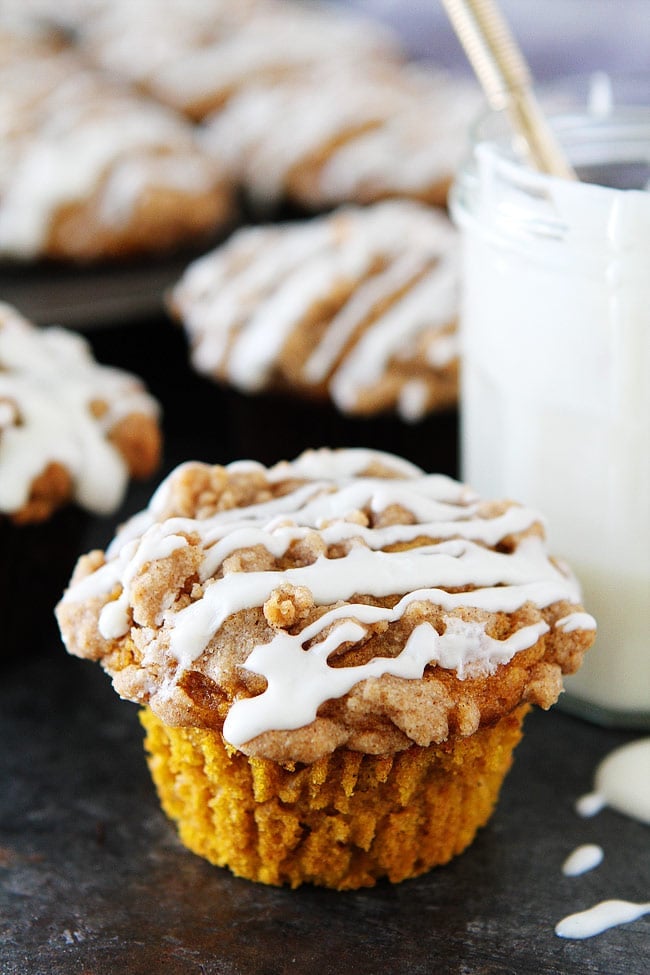 I mean seriously, what is not to love? These pumpkin cream cheese muffins are pumpkin perfection! They are great for breakfast, brunch, snack time, dessert, a midnight snack, Halloween, Thanksgiving…really ANY time! And if you can eat only one, can you please share your super powers with me? I couldn't resist. I won't tell you how many I ate. I am just glad it is big, cozy sweater season:)
Our family loved the muffins, but I wanted my friend to taste them to see if they lived up to her favorite bakery muffins. Well, good news, she said they are WAY better than the bakery muffins. She couldn't believe how good they were! Mission accomplished!
Make Pumpkin Cream Cheese Muffins part of your fall season. You will LOVE them!
PUMPKIN CREAM CHEESE MUFFINS
yield: 12 MUFFINS
prep time: 15 MINUTES
cook time: 23 MINUTES
total time: 35 MINUTES
INGREDIENTS:
FOR THE STREUSEL TOPPING:
1/2 cup all-purpose flour
1/4 cup light brown sugar
1 teaspoon ground cinnamon
4 tablespoons butter
FOR THE CREAM CHEESE FILLING:
6 tablespoons cream cheese, at room temperature
1/4 cup granulated sugar
1 teaspoon vanilla extract
FOR THE MUFFINS:
1 1/2 cups all-purpose flour
1 1/2 teaspoons ground cinnamon
1/2 teaspoon ground ginger
1/4 teaspoon ground nutmeg
1/8 teaspoon ground cloves
1/2 teaspoon baking soda
1/2 teaspoon salt
1 cup pumpkin puree (not pumpkin pie filling)
1/2 cup granulated sugar
1/4 cup light brown sugar
1/2 cup canola or vegetable oil
1/4 cup buttermilk or milk
2 large eggs
1 teaspoon vanilla extract
FOR THE CREAM CHEESE GLAZE:
2 tablespoons cream cheese, at room temperature
1/2 cup powdered sugar
1/4 teaspoon vanilla extract
Pinch of salt
DIRECTIONS:
Preheat the oven to 350ºF. Line a muffin pan with paper liners or spray with cooking spray. Set aside.
First, make the streusel topping. In a small bowl, combine the flour, brown sugar, cinnamon, and butter. Cut the butter into the mixture using your fingers until mixture is coarse and crumbly. Set aside.
Next, make the cream cheese filling. Using a mixer, beat the cream cheese, sugar, and vanilla extract together until smooth, about 2 minutes. Place in the fridge while you make the muffins.
In a medium bowl, whisk together flour, spices, baking soda, and salt.
In a large bowl, combine the pumpkin, sugars, oil, buttermilk, eggs, and vanilla. Stir until smooth.
Gradually add the dry ingredients to the pumpkin mixture, and stir until just combined.
Fill each muffin cup with about 2 tablespoons of batter. Add a heaping spoonful of the cream cheese mixture to each muffin. Top the muffins evenly with the remaining batter, about 3/4 way full. Sprinkle the streusel topping over the tops.
Bake muffins for 23-26 minutes, or until a toothpick stuck in the middle comes out with just a few crumbs. Let cool completely.
While the muffins are cooling, make the cream cheese glaze. In a medium bowl, whisk together the cream cheese, powdered sugar, vanilla extract, and pinch of salt. Whisk until smooth.
Drizzle the cream cheese glaze over the cooled muffins. Serve.
Note-store the muffins covered on the counter for up to 2 days. You can store them in covered in the fridge too, just let them come to room temperature before eating.
BERITA LENGKAP DI HALAMAN BERIKUTNYA
Halaman Berikutnya