SLOW COOKER MEXICAN CHICKEN SOUP - KETO / LOW CARB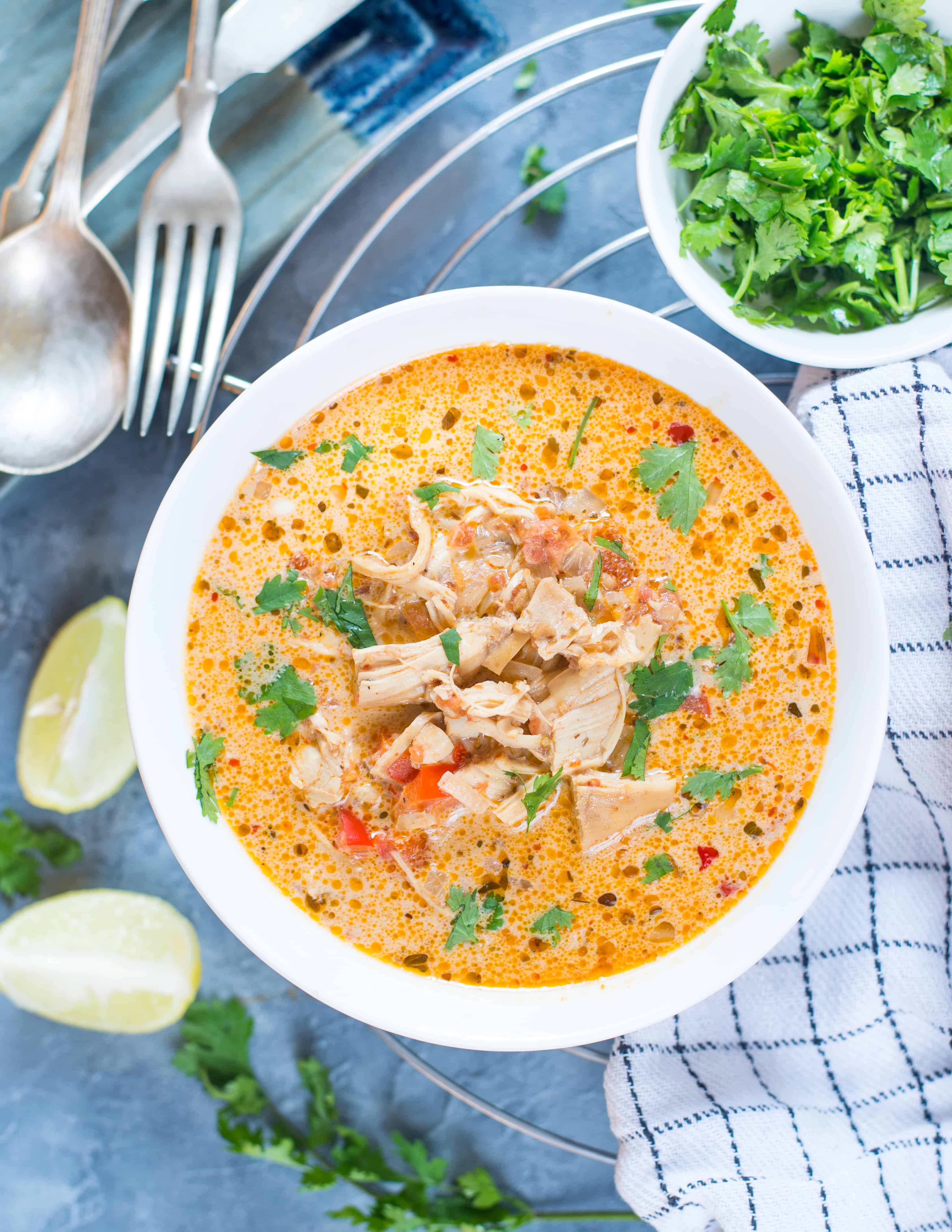 I am so happy the way this Mexican Chicken Soup has turned out. It is low in carb and not very rich. So you can have a big bowl of this soup without any guilt. The smokey flavours of this Low Carb Soup, makes it even more delicious.
The Chicken is perfectly cooked because of slow cooking in a crock pot. If you are not worried about carbs, then load this soup with crunchy tortilla chips or add some charred corn.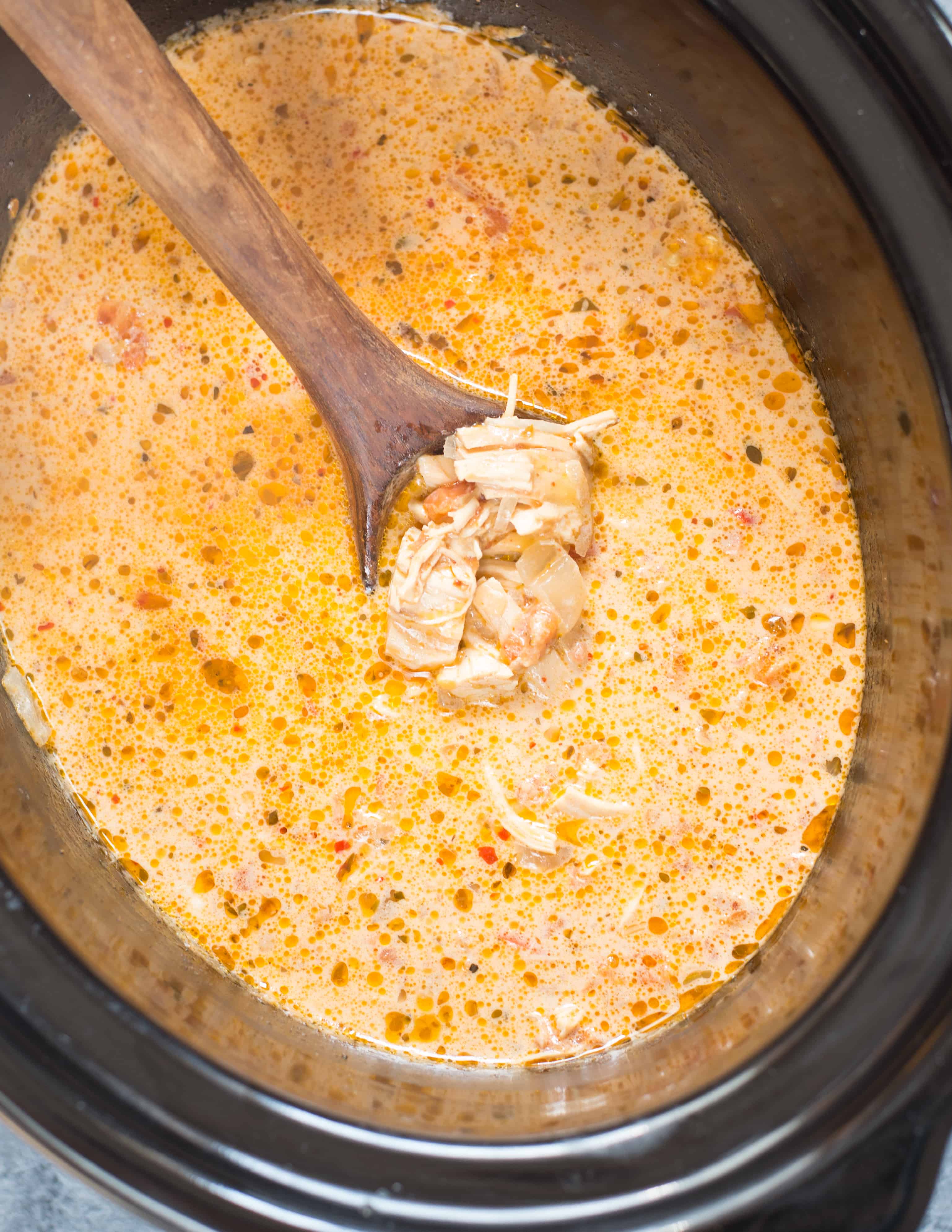 With this soup, I started my fitness routine again ( there is no connection between the two though). Do you find it difficult to get back to your routine post-vacation? Well, I do. It has been a week since I am back and I am finding it hard to get back to my regular routine. I started feeling terrible and low. I got back to my binge eating habits. Everything was a mess and I was desperately trying to set everything right. For some or other reason I was not able to start my workout.
Finally, I am back to my healthy eating. No sugar, Low carb, High Protein and off course workout. I pushed myself to the edge and made it sure no excuse to should stop me from doing the workout. Believe me, I am feeling so good since then. How do you resume your lifestyle once you are back from vacation or a long break? Any pro tips ???
INGREDIENTS FOR MEXICAN CHICKEN SOUP
This Mexican Soup is rich and creamy. Boneless chicken breast is cooked slowly along with onion, garlic, herbs, roasted cumin powder and chipotle chilli powder in a crockpot. Because of slow cooking, the chicken breast is really juicy.
It is the spice blend, Fire-roasted tomato and chipotle chilli powder are what gives this soup the real flavour.
To make it rich and creamy, there is half and half, cream cheese and also lots of cheddar cheese. I know it sounds a lot but when it is cold outside and you are snuggling in your couch, I bet you would crave for a loaded soup.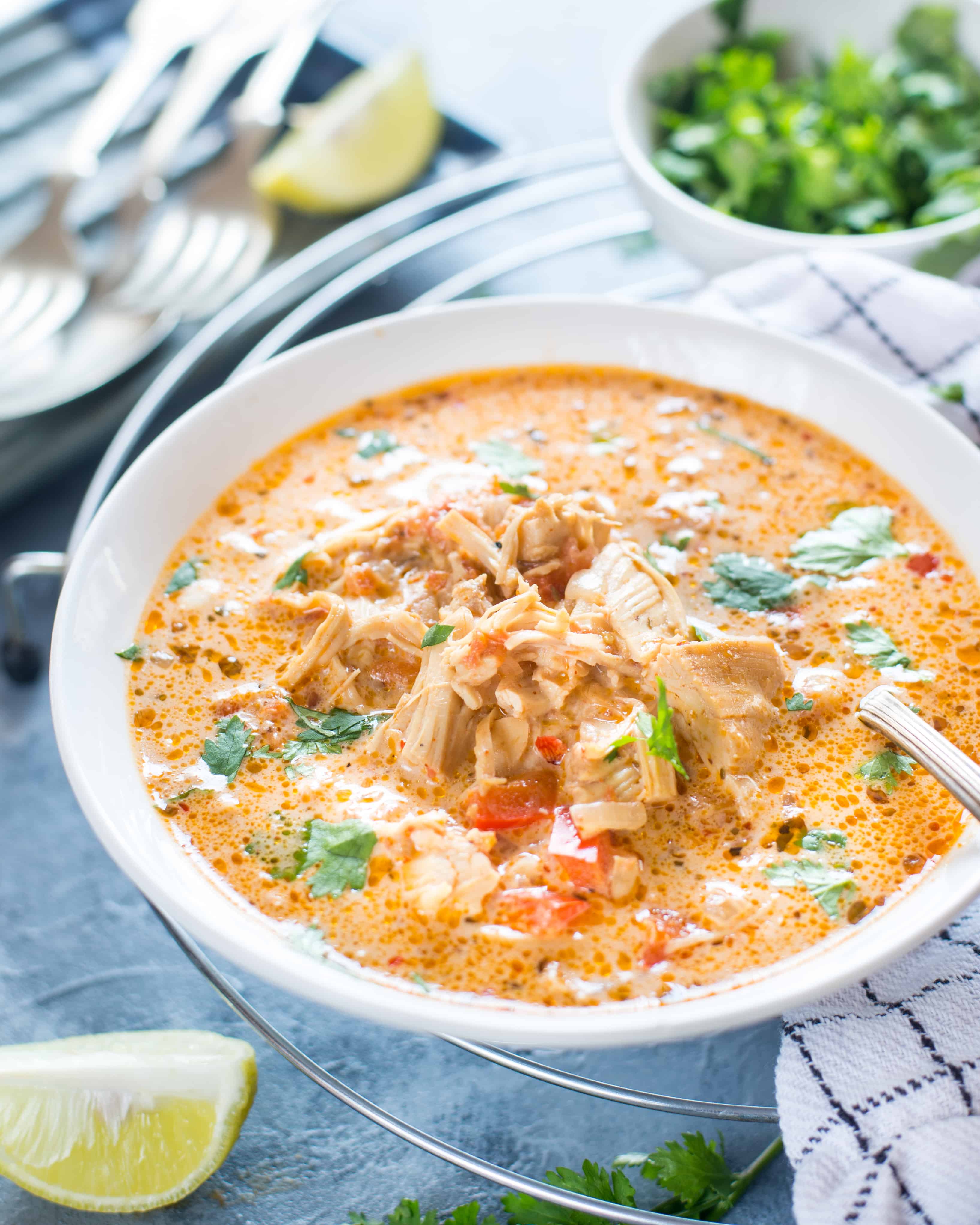 TIPS TO MAKE CROCKPOT CHICKEN SOUP
Making soup in a slow cooker is really easy and the outcome is outstanding. You need to spend only 10 minutes of your time and rest will be done in the slow cooker.
While you can dump chicken and rest of the ingredients to the slow cooker and cook it, I would really prefer sauteing the aromatics in a pan first. Frying onion and garlic in oil gives deep flavour.
Another important step while making this recipe is adding dairy products at the end of the cooking. So that dairy is not overcooked with other spices and curdles or give a wired taste.
IS THIS SOUP LOW CARB/ KETO?
This soup is Low carb. If you are following Keto, then you can easily adjust the recipe as per your macro.
I am going to add some crunchy tortilla chips on my cheat day.
Make a big batch of it and freeze it for later. Another favourite soup in this season is this Low Carb Cabbage Chicken Taco Soup. Another Mexican soup with mindblowing flavours
Few more Soup recipes, that you might be interested in
LOW CARB CABBAGE CHICKEN TACO SOUP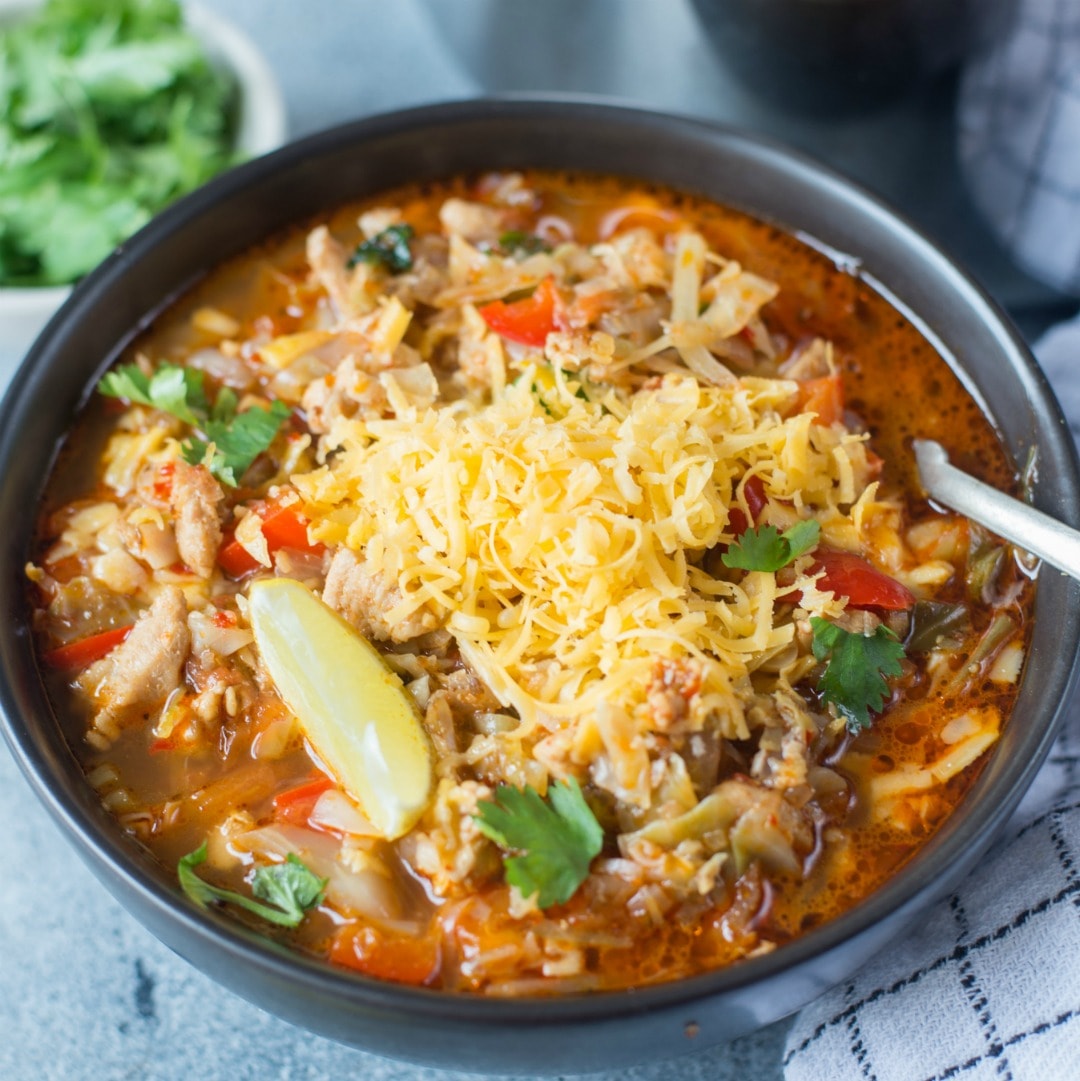 CREAMY CHORIZO POTATO SOUP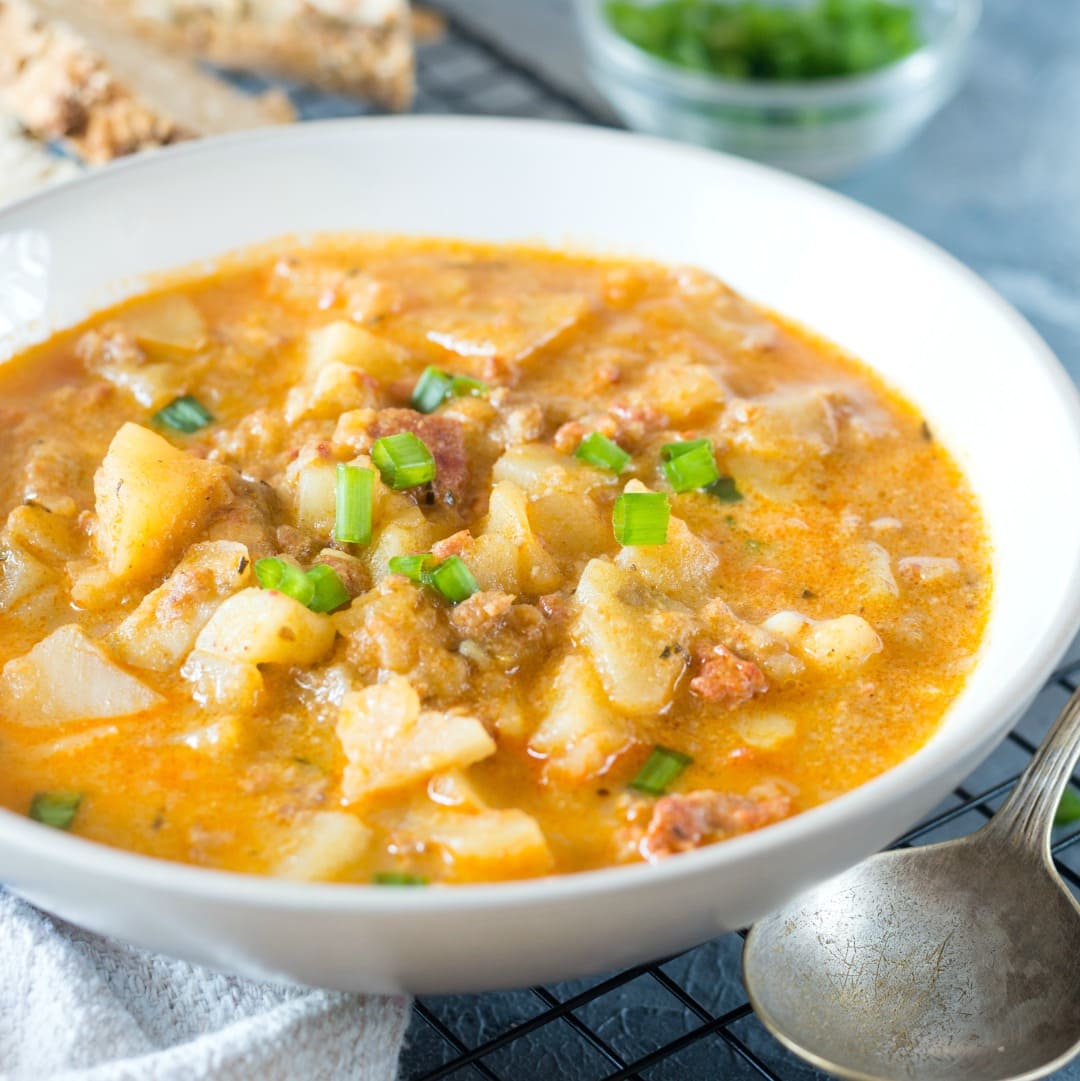 SLOW COOKER CHICKPEA SAUSAGE STEW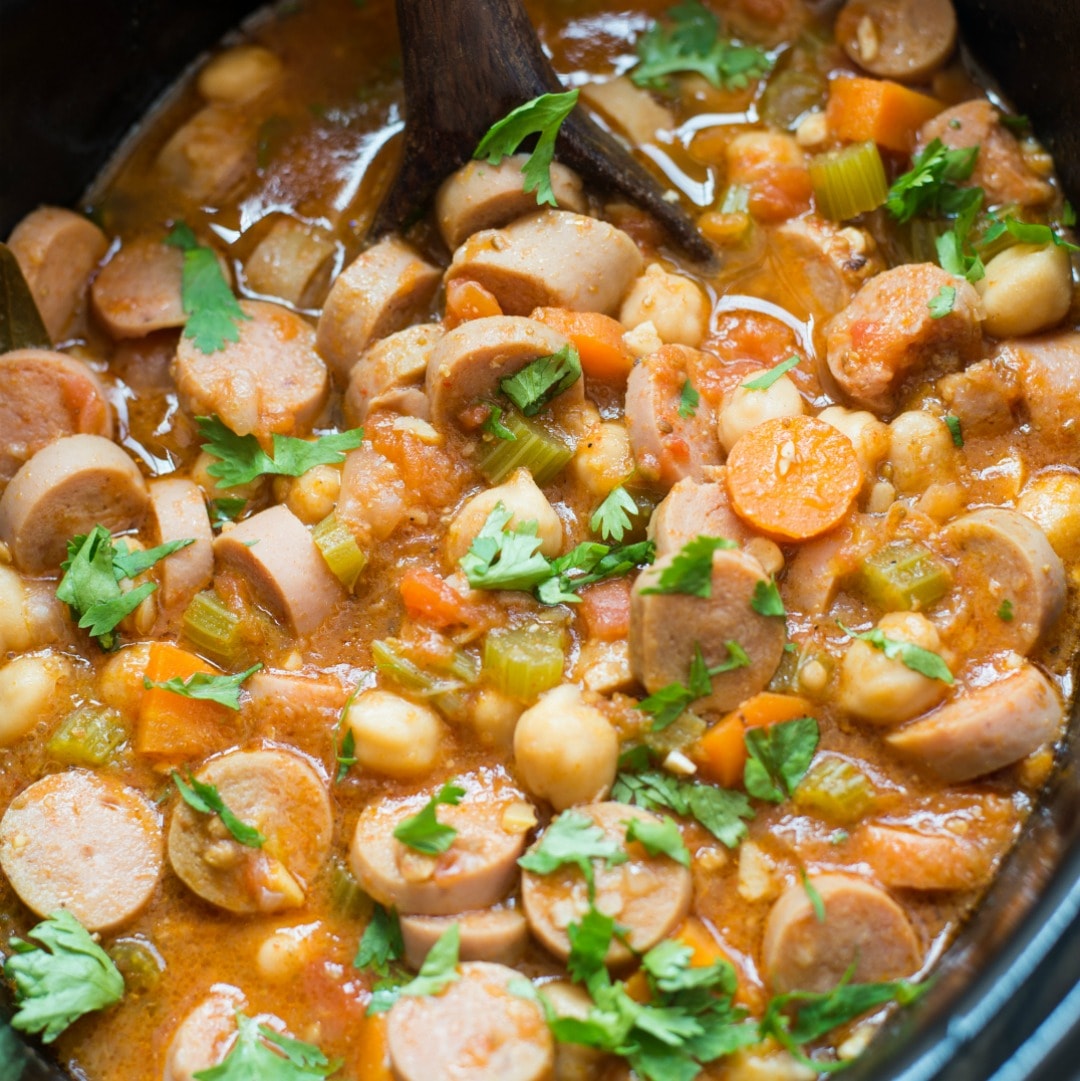 SLOW COOKER MEXICAN CHICKEN SOUP - KETO / LOW CARB
Prep Time 10 mins
Cook Time 4 hrs
Total Time 4 hrs 10 mins
This Low Carb Slow Cooker Mexican Chicken Soup is full of Mexican flavors. This delicious soup has everything that you would need to comfort yourself in winter.
Course: Soup
Cuisine: Mexican
Keyword: Crockpot Soup, Mexican Chicken Soup
Servings: 5 Servings
Calories: 483 kcal
Ingredients
400 grams boneless skinless chicken breast
200 gms plum tomato Fire-roasted
1 medium onion
1 tbsp Minced garlic
1 red bell pepper
1 tsp Roasted Cumin powder
1 tsp Dried Oregano
1.5 tsp chipotle chilli powder
1 tsp paprika (Optional)
1 tspn Mexican Seasoning (optional)
1.5 cups chicken stock
1 cup cream
1/2 Cup Cream Cheese
1 cup cheddar cheese (or Mexican blend)
Salt to taste
1 tspn oil (optional)
Fresh Cilantro leaves for garnishing
Instructions
Take oil in a pan. Once hot, put minced garlic, followed by onion. Fry till Onion start to brown a little bit.
To a pre-heated Slow cooker, add chicken breast, crushed tomatoes, cooked Onion and garlic mixture, all the spices, warm Chicken Stock and salt.
Cover and let it cook on high 2-3 hours.
At the end of cooking using two forks shred the chicken breast.
To the Crock Pot, stir in chopped bell peppers, Cream, cream cheese, Shredded cheese. Further cook on high for 20-30 minutes.
While serving, top it with fresh cilantro, Sour cream, Avocados.
Recipe Notes
Caramelizing Onion and Garlic is an optional step. You can directly dump everything into the slow cooker. I prefer to do it because It maximizes the flavor.
I roasted 4-5 medium tomatoes on the stove top. Chopped with a knife and reserved the juices. You can also substitute with equivalent canned tomatoes.
If you prefer the soup more water like, then increase the stock quantity.
Nutrition Facts
SLOW COOKER MEXICAN CHICKEN SOUP - KETO / LOW CARB
Amount Per Serving (100 g)
Calories

483
Calories from Fat 324
Total Carbohydrates

11g
4%
* Percent Daily Values are based on a 2000 calorie diet.
BERITA LENGKAP DI HALAMAN BERIKUTNYA
Halaman Berikutnya